Post by Ken Nagele on Mar 25, 2013 21:34:52 GMT -8
Greetings,
Recently, an article entitled,
Matters of Prophecy in Daniel
, was presented on the ASK site:
www.askelm.com/prophecy/p130301.PDF
Edited by David Sielaff, his opening note states that:
This article is compiled from two sources, both by Dr. Martin, a 1984 audiotape "Matters of Prophecy in Daniel" and a 1989 article "New Discoveries in Prophetic Understanding." Both deal with background regarding the prophecy in the Book of Daniel called "The Scripture of Truth." This information should be read in light of Dr. Martin's final article "The 'Great Generation' and Modern Prophecy," which he was composing at the time of his death in January 2002. Information in that article supersedes any of his earlier research materials should they conflict.
The purpose of this forum post is not to directly comment on the article, but rather to address two issues that I see concerning the subject of Daniel's Prophecies in general.
The first issue I see regarding the subject is, "Why are we even remotely concerned about this subject?" As it even states in the article, any clue to what this prophecy really means is decades into the future. Considering that we are not even close to the "end-times" (as identified from the numerous events that
must
transpire
before
the end-times even begins, which are documented towards the bottom of this page:
ernestlmartin.com/index2.htm
), why would we even be spending time and energy pondering this subject at this point in time?
I ask that question in light of the fact that most of the readers of this article have yet to spend any time doing what Jesus specifically instructed us to do, as outlined in Matthew 25:31-40:
ernestlmartin.com/index3.htm#matthew
Now, I would love nothing better than to be proven wrong on this observation, but I venture to guess that there isn't one person who has read the Daniel Prophecy article who is truly fulfilling Matthew 25:31-40, as Jesus intended. Worse, I doubt any believe that the Kingdom of God is an award for their attitude (and subsequent works) in this lifetime, not a reward for having an elementary understanding of the KOG:
ernestlmartin.com/kingdomofgod-firstresurrection.htm
The second issue is, if we must continue looking for "ten kingdoms", why haven't we at least entertained the possibility that Satan's 'government behind the government' (in power in one form or another almost since the beginning of time) has possibly provided us with the answer, complete with a full color map of their proposed kingdoms of the (end-time) future? Is it because we are too fearful to even admit that our world is really run by those we never elected?
ernestlmartin.com/index5.htm#illuminati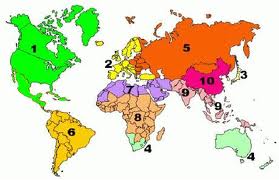 Again, this is just a possibility, but one that Satan's government on this earth has publicly proclaimed as being their future world power structure. Can you find the "kingdom of the north" on the map? Read this article for a more concise understanding of this possibility:
www.newswithviews.com/guest_opinion/guest180.htm
We will not live to see this event transpire, and probably our children will not, either. But our grandchildren might. Will we leave the correct teachings and understandings behind so that they might properly identify these events?
Meanwhile, we need to be doing the work of God by letting God work through us. Not wasting our time with the useless, academic pursuits of studying and debating prophecies clearly not intended for our lifetime, while the important things that we will be judged on go by the wayside. May God open at least a few hearts and minds through this post.
Check out the new article on the ASSOCIATES ONLINE:
ernestlmartin.com/index2.htm#daniel
Ken N.